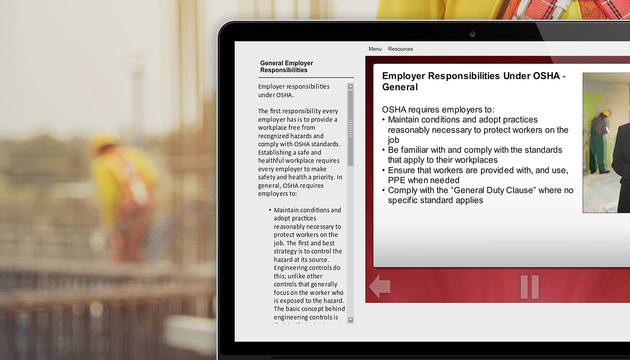 OSHA Fall Protection Compliance Training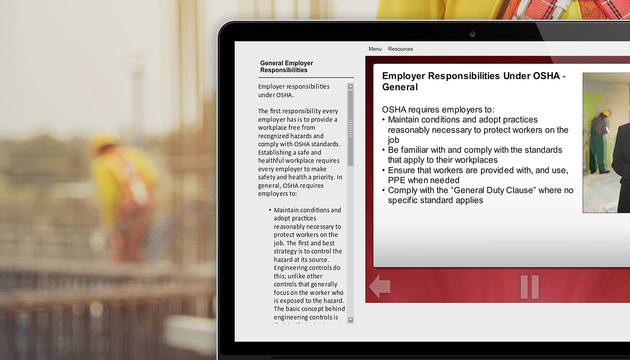 Description
The US Department of Labor (DOL) lists falls as one of the leading causes of traumatic occupational death, accounting for 8% of all occupational fatalities from trauma. Our 1-Hour OSHA Fall Protection Compliance Training for the Construction Industry provides you with the tools to identify fall hazards and decide how to best protect workers by reducing or eliminating fall hazards in the construction industry.
Complete Your OSHA Fall Protection Training Online!
Taking our OSHA course online offers these benefits:
24/7 course access
Log on and off as many times as you want
Work anytime, anywhere - All you need is a computer and access to the Internet
Course trainer email access for any questions you have
Allows up to 6 months to complete the course
This course is offered by the University of South Florida and is not a course or program of the Occupational Safety & Health Administration. Upon successful completion of the course, you will receive a University of South Florida Certificate of Completion and .1 CEUs.
When you complete this course, you will:
Understand construction hazards that require a fall protection system
Be able to identify the different types of fall protection systems and their requirements
Review the training requirements and common hazards associated with fall protection
Course Outline
OSHA requirements for when and how to use fall protection
Fall protection with unprotected, leading sides and edges
Avoiding falling objects and struck-by hazards
Using guardrail, personal fall arrest, warning line and safety monitoring systems
Training requirements
Safety equipment inspection procedures