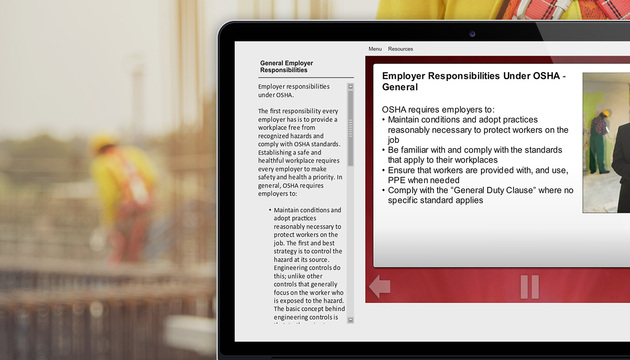 OSHA 30-Hour Outreach Training For General Industry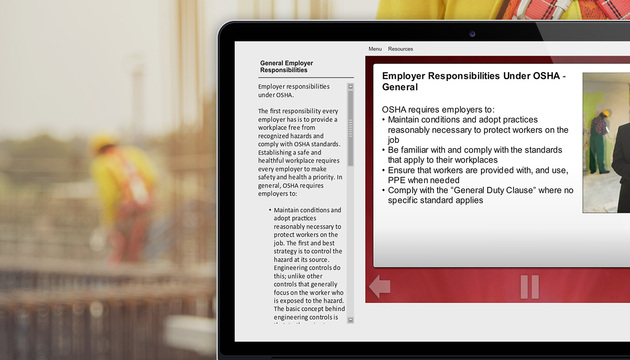 Description
OSHA 30-hour training is the primary method used to train workers and supervisors on hazard recognition and OSHA safety standards. Our training is 100% online and covers specific OSHA regulations and requirements as they apply to the general industry.
OSHA training is necessary for a safe and healthy work environment. If you don't qualify for the 30-hour course for construction, you may need to take the 30-hour course for the general industry. Workers and supervisors taking this course have jobs related to health care, electrical, factory, warehouse, manufacturing, storage and more. This 30-hour course covers general industry hazards not specific to those working construction-only jobs. If you need your OSHA 30-hour card and currently fall into the general industry category, this course is right for you.
About our OSHA 30-Hour Online Training
OSHA Accepted
Audio Narration and Interactive Exercises
Real Life Case Studies
Download or Print Reviews for Final Exam
Work where and when you want; all you need is access to the internet
This online 30-hour course teaches safety awareness and helps each worker recognize and reduce the risks of job site hazards. Our fully narrated and interactive training is intended as a comprehensive overview of OSHA standards and the safety and health hazards workers may face on the job site. This online OSHA course places special emphasis on hazard identification, avoidance, control and prevention. When the training is completed, you will receive your official OSHA 30-hour training card and certificate.
Course Outline
Hazard Communication
Fire Prevention & Protection
Machine Guarding
Flammable & Combustible Liquids
Material Handling
Ergonomics
Industrial Hygiene
Personal Protective Equipment
Bloodborne Pathogens
Welding, Cutting & Brazing
And More...